III-V on Silicon photonic platform
REFERENCE: Joan Manel Ramirez, Hajar Elfaiki, Théo Verolet, Claire Besancon, Antonin Gallet, Delphine Néel, Karim Hassan, Ségolène Olivier, Christophe Jany, Stéphane Malhouitre, Kamil Gradkowski, Padraic E. Morrissey, Peter O'Brien, Christophe Caillaud, Nicolas Vaissière, Jean Decobert, Shenghui Lei, Ryan Enright, Alexandre Shen, and Mohand Achouche
"III-V-on-Silicon Integration: From Hybrid Devices to Heterogeneous Photonic Integrated Circuits"
IEEE Journal of Selected Topics in Quantum Electronics, vol. 26, no. 2, pp. 1-13, March-April 2020, Art no. 6100213, doi: 10.1109/JSTQE.2019.2939503.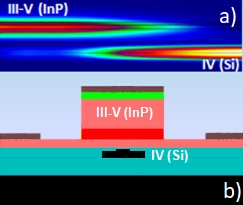 a)Optical mode transition between III-V and Silicon waveguides
b)III-V on Silicon waveguide cross section
Wavelength tunability of a heterointegrated laser